Hello everyone!
With exams coming up, I wanted to share with you guys some study hacks that helped me ace all of my exams. Now, I am no nerd but you can trust me with these because I was able to do complete both a degree and post grad simultaneously by 21 years (click to see the article)- so believe me, they work!
Here's a little heads up- all the pictures are from when I was studying in uni! The first 3 hacks are pretty basic ones that you need might find interesting but the juicy ones are after #3!
I personally find having a to do list crucial and still follow it to the day.
The reason why having a little note book to write down your daily to dos are because we are human and we tend to forget. Especially in school and university we are pretty filled up with tons of homework, assignments and group projects- also to add our daily allowance of tv series episodes and gossip our brain pretty much takes up a lot of space.
This is why having a to-do list is my #1 hack. It gives you a place to jot down all of the tasks you need to do in your day- from school work to house chores, calling a friend or even checking up the progress of your group project. Having these details written down will help save you a lot of time and make you be more organized.
You can be a messy person, but make sure in the area that you study, you keep it free from things and to make sure it pretty much empty. Why I am saying this is because when we study we are already so stressed that our mind feels cluttered, and when there is clutter right infront of your eyes, its going to be worse. At least keep the stuff on top of your table down in the floor for the time being and see how different and good you will feel.
Sometimes its the most minor things that will make one study session greater than the rest.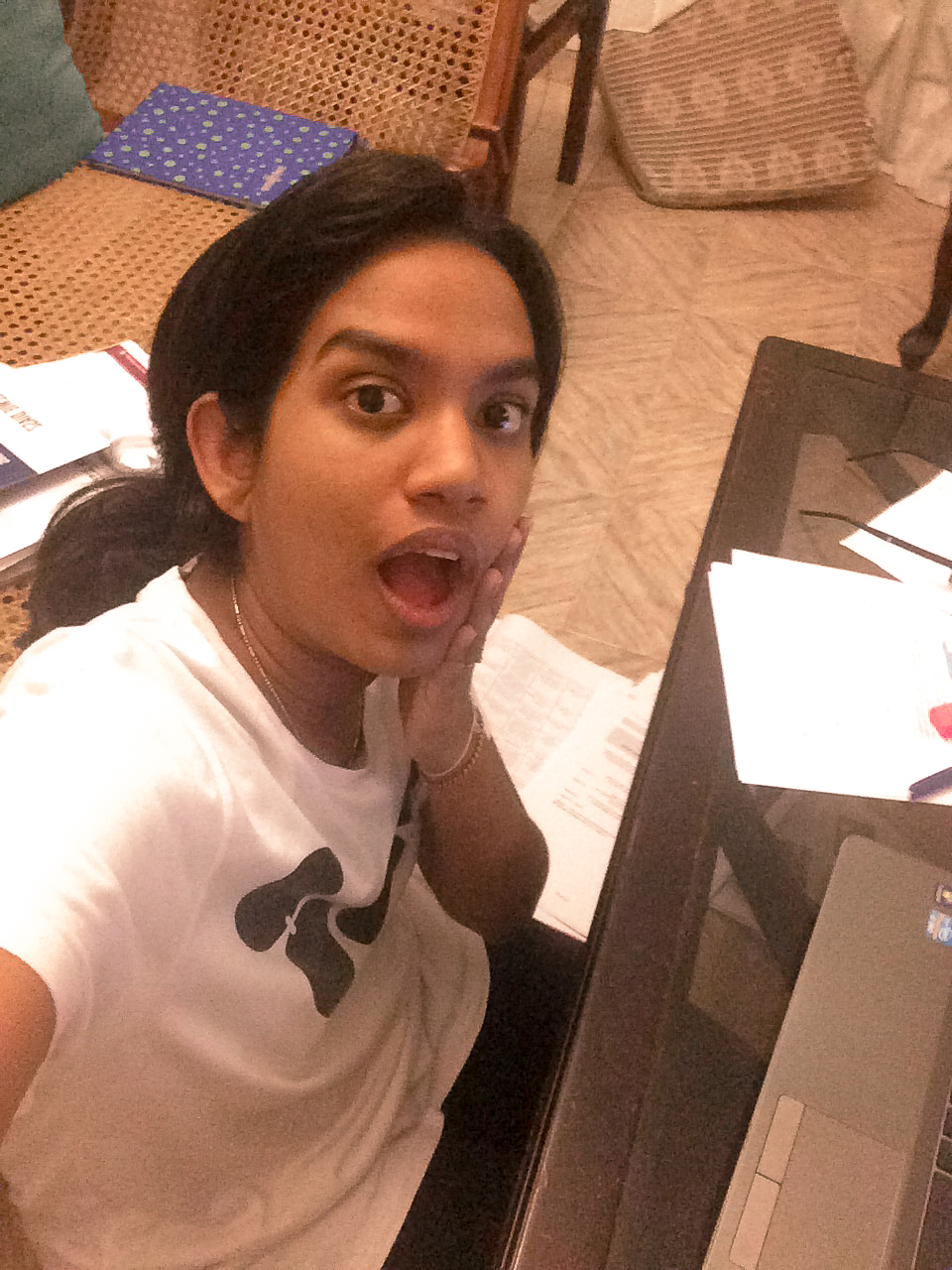 We all know that we won't have degrees and qualifications if not for Google so let's just accept that and move on. Google is such a great learning tool where you can learn anything by just typing into it and you guys have no idea how much Google helped me throughout all my exams.
Just like you, there were times I didn't understand a word in my notes and none of the lecture notes helped me- however when I Googled it, I found the explaination and viola! I instantly understood.
Now that the basic hacks are covered, let me tell you the secret study hacks I used. These are juicy top secret tips that helped me all the time!
4. Go though the lesson outline and topics that will be covered under each chapter.
I'll be really honest with you guys and tell you that I always waited until the last minute to study. And by last minute I mean like 2 nights before the actual exam. Yup, not proud of it!
Anyways, one of the first things I used to do was to go thought the entire syllabus and to have the general understanding what the subject is about. Trust me- you are not doing an MBA or a PhD so the scope of the subject is pretty straight forward. I was the kid who was so scared that I will be asked the theory of relativity on a simple business exam but trust me it's not the case.
Once I understand what the subject is about, I then go to the first chapter and see the outline/ outcome of the lesson. Pro tip- this is what you need to remember. When it comes to subjects, there are a certain level of understanding that is expected. If you are in a degree level or lower you only need to know the basics which is pretty easy.Then, all you got to do is to study the areas that cover those topic areas.
Trust me, I have gone to my 4th year finals completely skipping pages of slides because it's not relevant and they never asked them in the exam! Just figure out what is in your scope and study that part thoroughly.
5. Everything you need to know is in the slide.
One thing I realized is that teachers/ lecturers put up the shortest version possible on their notes/ lecture slides. This basically means that that is what you need to study. Education is a never ending, ever growing part of our lives and for us to learn we need to know more information. The more we know the more we grow right? That's exactly why your teachers are making you read all the extra reading materials and make you go though all that research.
However, the ultimate objective is for you to understand and grasp the aspect that is being taught. I've had so many friends of mine who always hung out at campus and in the library reading and wasting their time when you can get it off of Google.
6. Don't "study" just learn the concept.
There is no point of learning something if you are a book work and puke it out to the paper. These are the kid who just pass exams but have no practical ability to apply things into real life. There is no point staring at your book memorizing pages and pages of your notes if you don't understand what is in them.
One way how I always remember my stuff is by understanding the subject like a story. It basically has to make sense to you. I always understand why it makes sense to be in this subject/ topic. I have NEVER memorized any subject ever. I find it too exhausting. I understand the concept and trust me you will be able to apply what you understand better to your questions and write a better answer.
7. Glimpse through your notes before class (if only you have notes of the day).
Especially if you are in university, you have to print your notes and take them to class. What I usually did was to just go though them like from the top to bottom and have an understanding of what we will be covering at that specific day. By doing this, I was mentally prepared to make sure I was attentive in class because deep inside my brain I knew this was something I didn't know and had to learn about.
Something about this made me want to learn and be attentive in class better so I just wanted to mention it for you guys to try it as well!
8. Past papers, past papers and past papers!!
I saved the best for last, and if you are reading all the way down here you really deserve to know this hack!!
If you want to cut time studying but need to get an A, I got you covered. This is tried and tested by me and I have gotten my A's so I really am a reliable source. One thing I always do when I enter a new semester is I make sure to collect all the past papers there is in the last 5 years. When it's time for finals and have done what I said in point #4 you will pretty much know what chapter the question's answer is in. Take the papers of the past 5 years and see the pattern of the questions.
You will be shocked by how similar the questions are and how they are asked. Also note that the questions asked are covered in the topic outline of the chapter! I told you that you don't need to study a lot now didn't I! Then all what you need to do is depending on the number of marks add extra points that you need to keep in mind. Usually per 2 marks per point if it's a 10 mark question (5 points) so you can follow this rule basically to the number of marks given. But please keep in mind some lecturer's style of marking is different so you might have to change this!
Learning is fun as long as you find your own creative way to make it work. There is no rocket science behind it and in my opinion if you want to succeed, you need to take responsibility of your education and your future and focus. I hope that you found at least one of these hacks helpful to incorporate into your study routine!
Comment down below which one was your favourite hack?
Hope you guys enjoyed reading this article!
Hugs,
Kusali.