Hello everyone!
The world as we know has so much to offer and we are just as uninformed when I tell you about how crazy food can be served in this world. It's always good to get inspired by all things offered, so I thought of sharing with you some of the most expensive and extreme food served in this world!
Frrrozen Haute Chocolate ice cream sundae- $25,000 (NEW YORK, USA)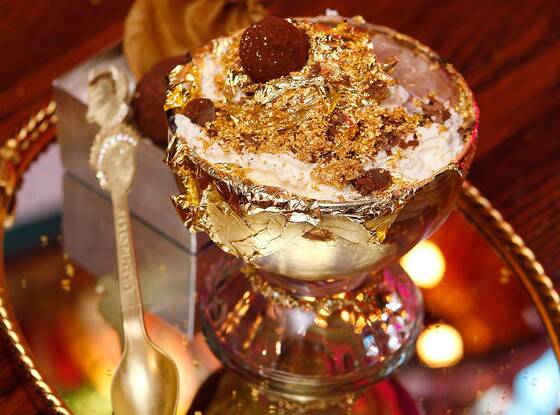 This Guinness World Record holding dessert is created by New York's famous Serendipity 3 restaurant. The whooping price tag comes due to the ingredients and gold used which includes a fine blend of 28 cocoa where 14 of them being the world's most expensive.
What makes this expensive:
This lavish dessert is served in a Baccarat Harcourt crystal goblet with an 18 carat gold and white diamond bracelet attached to the neck. The goblet is further laced with 23 carat edible gold. The recipe includes Serendipity frozen hot chocolate mix that contains 28 cocoas (both rare and expensive), milk, ice cubes whipped cream and shavings from the world's most expensive truffle, the La Madeline au Truffle ($2,500 a pound). It is then topped with 5 grams of 24 carat edible gold and is served with a $14,000 jewel encrusted spoon. The bracelet and the spoon belongs to the sweet-toothed customer and it is a keepsake of experiencing this dazzling dessert.
2. Taco- $25,000 (MEXICO)
This exquisite taco is the creation of Chef Juan Licerio and is served at the Grand Velas Los Cabos Resort located in Mexico. For you to order this taco, you HAVE to be a guest in the resort- specifically using the presidential suite. In addition to this, there is a deposit of $ 12,500 to order this taco.
What makes this expensive:
The taco's tortilla's are made with gold-infused corn, and then layered with Kobe beef and lobster. Toppings of this lavish taco include black truffle Brie (which costs $100 per ounce) and a dollop of Beluga caviar (which costs $700 an ounce). Then for the final touch, the taco is then garnished with more layers of gold!
3. Fortress Stilt Fisherman Indulgence- $14,500 (GALLE, SRI LANKA)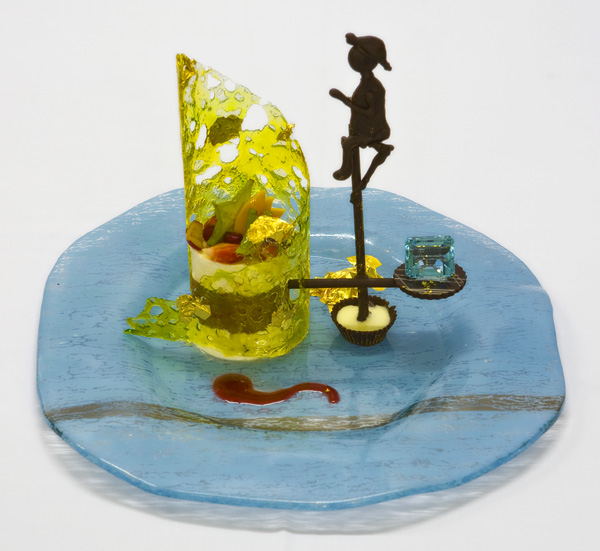 As a Sri Lankan I am super proud to include this in the list! This dessert is created by The Fortress Resort & Spa located in Galle. The inspiration had been the locally famous stilt fishermen seen in the down south coastal areas of the island. The reaspn why the blue aquamarine stone is the literal gem here is due to the special qualities including the ability to soothe, heal and bring about calmness. It also resembles the blue waters of the Indian ocean. Used by the fishermen as both a good luck charm and a form of protection, it is believed to bestow its owner with happiness, foresight and courage.
What makes this expensive:
This features Italian Cassata flavoured with Baileys and is served with a pomegranate and mango compote adorned with gold leaf. The base is a delicious champagne sabayon enlighten, while the crowning glory is the 80-carat aquamarine stone, placed below an exquisitely handcrafted chocolate stilt fisherman.
4. FleurBurger 5000- $5,000 (Las Vegas, USA)
This is the creation of Chef Hubert Keller from a restaurant named Fleur in Las Vegas.

What makes this expensive:
The burger is served in a brioche truffle bun which consists of a Wagyu beef and foie gras patty topped with truffle sauce and shaved black truffles. The FleurBurger 5000 is also served with a bottle of Bordeaux: a 1995 Chateau Petrus, which typically goes for about $2,500 a bottle. In addition to this, the wine is served in Ichendorf glasses, which is a keep sake and a certificate of authenticity of the mean will be mailed to your home too!
What a way to eat a burger huh?
5. 24K- $2,000 (NEW YORK, USA)
We all love pizza and honestly me as an individual lives for a good mozzarella pizza. I can literally eat only that forever! But imagine a $ 2,000 pizza! This lavish delicacy was created at Industry Kitchen in New York City.
What makes this expensive:
The dough of the crust is made from squid ink which is then topped with Stilton cheese, 24-karat gold leaves, caviar, truffles, and foie gras.
A slice of this 12 inch pizza is literally $250! What a way to make pizza boujee!!
I know you are as confused as I am but these delicacies are real and people actually eat them. It must be nice to be eating gold every now and then but honesly saying if I got lucky to have some money I might not waste it on food- especially considering our digestive system. However, these lavish food can only be consumed by the wealthy but at least now we know what (most) rich people spend their money on.
Would any of you guys want to try any of these dishes? Let me know in the comments below!
Hope that you guys enjoyed reading this article!
Hugs,
Kusali.