Hello everyone!
The monochromatic trend has been very popular recently with pop culture and fashion brands and makeup palettes have being released under the same category. One aspect that made this trend take over the world so fast is simply because it is said that using one colour makes a person look thinner- while obviously being stylish. In my personal opinion, wearing one color does take away the challenge of pairing up colours and textures in the clothes, however it does limit the colourfulness in true typical fashion.
In spite of the trend, there are 5 ladies who have lived using a single colour their entire lifetime- yes, this means from the paint in the walls to the kitchen equipment to the clothes to even the pen. These are the 5 ladies who took the monochromatic look beyond their lives to their lifestyle and living space.
Ella London, aka Miss Sunshine- YELLOW
Ella is a Brit who lives in LA and her life being yellow only started when she was planning out her wedding. Ella's father had passed away when she was only 2 months old, and given that the bride to be wanted to find a way to honour her father in some way. He fiancé who gave her the idea of yello since it was also her father's favourite colour. Ella's house door frame had been coloured yellow and anytime someone spoke about her father they always said how cheerful and happy he was. This was what made her click with the colour yellow.
2. Valeria McCulloch, aka Valblv- BLUE
Valeria always only ways one particular shade of blue. She wears blue for one reason- "Blue has been known psychologically to transmit peace and serenity." Valeria first fell in love with this colour when she was studying art and had stuck this colour to her life ever since.
3. Kitten Kay Sera, aka the Queen of Pink- PINK
Kitten first wore pink from head to toe in 1980, on her 20th birthday. Known famously as "The Pink Lady of Hollywood" and her dog Miss Kisses is also pink. Both of them are featured in many magazines and TV shows and her home is also used as a backdrop for many famous designer photo shoots.
4. Elizabeth Sweetheart- GREEN
Elizabeth is known as the green lady from Brooklyn who lives with her non-green husband Robert Rosenthal. She was born and raised in Nova Scotia. Her Canadian father was a surgeon and her Welsh mother was an anesthesiologist, who was also one of the first women to study medicine in London. Her father studied and interned in London, where he met her mother and they fell in love. He brought her back to Nova Scotia and soon after, World War II broke out. Elizabeth had always been keen on art and when she was 23, she hitchhiked from Nova scotia to New York in hopes of being an articst. It was all worth it as she had her own design and fashion studio and worked with companies including Michael Kors, Liz Claiborne, Calvin Klein and American Eagle Outfitters and has even met and made designs for Ralph Lauren, his brother Jerry and the Duchess of York. Her love for green just evolved and as an artist she enjoyed her transition.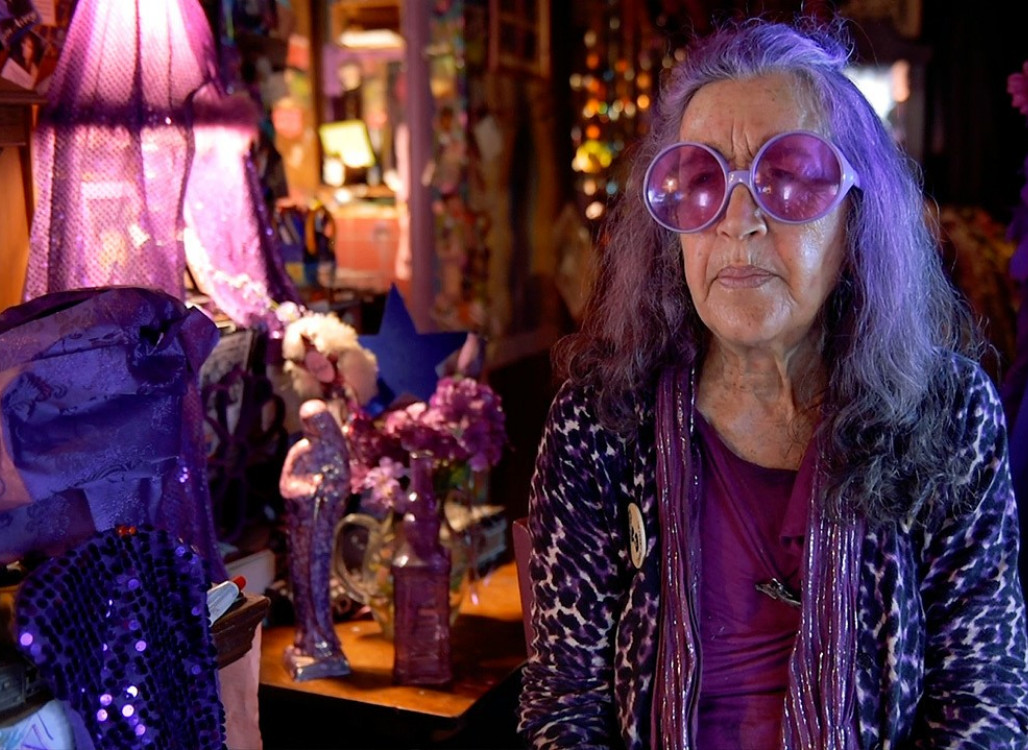 Sandra calls her home "The Purple Hut" and lives in the woods. Yes, shocking but she is very happy. She says that purple is a colour of royalty and power. Oh. and she advises we hug trees. She considers herself to be a witch and says so because witches are healers. She says that she put out her energy and spells to help stop war and people trying to kill eachother.
As you can see, staying in one colour really is a commitment. It is a discipline to follow in terms of self actualization. Three things common to all of these confident ladies are that they are very artistic, young at heart.know how to portray their personality very well.
One take away from their lifestyles for us is their mindset and determination-
Never fit in if you were born to stand out.
Let me know in the comments below if you have seen anyone as extreme as they are!!
Hope you guys enjoyed reading this article!
Hugs,
Kusali.