Hello everyone!
This world is big and so crazy that there are places in this world we never knew existed. These beautiful jewels of locations are located all over the world, and my objective today is to make you inspired to add least add one to your bucket list. I will be less descriptive in this particular blog post and let the images speak for itself!
1. Rose Quartz mountain range- SRI LANKA.
Asia's biggest rose quartz mountain range is located in about 15km from the Dambulla Town. This is found amidst the largest Ironwood forest in Sri Lanka. Rose Quartz a semi precious stone known to be the stone of universal love. It is also a stone that is known to gently remove negative energy and restore with loving vibes. In spite of this mass deposit of rose quartz, it is illegal to to mine off the mountains for personal and commercial use. To get to know more about Sri Lanka's largest Ironwood forest and rose quartz mountain range I came across this amazing documentary done by Winson Films. Drop me a message in the contact me page and I will get you an original documentary (and maybe a discount too!)
2. Lake Hillier– AUSTRALIA.
Australia has many pink lakes, but this particular lake has it's prominence as you can see- it's bright pink. This is a salt lake that you can find in Western Australia in the Goldfields-Esperance region. The pink colour of the lake is due to Dunaliella salina microalgae.
3. Glowing water- MALDIVES.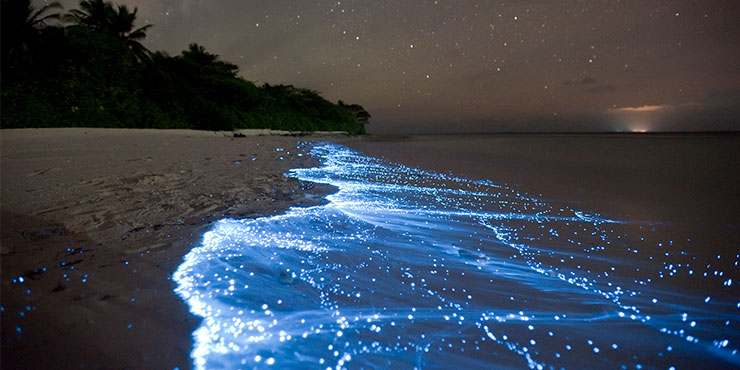 Out of the very few bio- luminescent bays in the world, the one at Vaadhoo Island (Maldives) stands out. As you can see, it illuminates around the island and is caused by a species of phytoplankton known specifically as the dinoflagellates who glow the water when an sudden introduction of oxygen disturbs their cell membrane.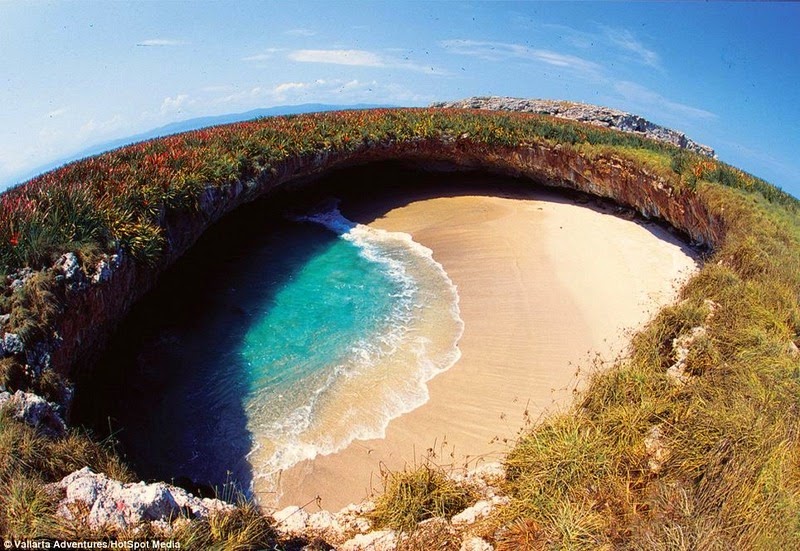 Situated off the coast of the Riviera Nayarit which form a part of the Islas Marietas is the secret beach of Mexico. The strange formation of the this is said to have happened by military explosives tested out in the 1900s. The result had left several craters and caves on the islands.
5. Rainbow Mountains- CHINA.
These gorgeous mountains are formed in China's Zhangye Danxia Landform Grological Park. According to Forbes "The Rainbow Mountains are cretaceous sandstones and siltstones that were deposited in China before the Himalayan Mountains were formed. The sand and silt was deposited with iron and trace minerals that provided it with the key ingredient to form the colors we see today."
6. Benagil Sea Cave- PORTUGAL.
One of the most beautiful sea caves in the world, this is located along the coast next to Benagil Beach, in the Algarve Portugal. Formed to a unique design, these caves are breath taking. You can get to this spectacular landmark by swimming, a boat or even your kayak. This destination as you can see is so romantic, that people actually get married here! Just imagine how magical that should be?!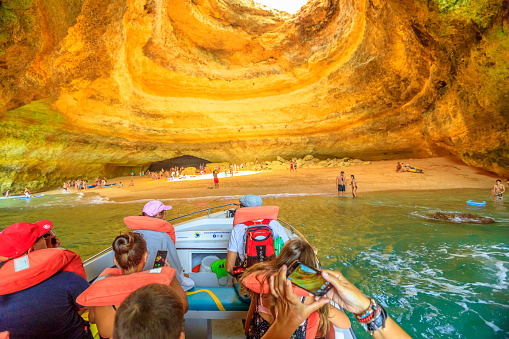 Pictures or words just simply can't make justice to all of these natural beauties. Obviously, there are more places than this which are extraordinary and spectacular and beyond our wildest expectations. Looking at all of these, I just can tell you that my mind gets blown away every single time our beautiful planet showcases it's real beauty. Nature is wonderful and a very sacred one indeed.
Let me know in the comments if you have been to any one of these places, or if you just added one to your bucket list to eventually go one day because of this article! Once again, these are not the only beautiful places in the world and I will show you guys more in the coming articles, so stay tuned!
Hope that you guys enjoyed reading this article!
Hugs,
Kusali.