Hello Everyone!
Located in the city of Colombo, Colombo's Lotus Tower is one of the most spectacular man-made landmarks that joined Colombo's skyline recently . It is the tallest completed tower in the South Asian region with the height of 356 meters. Simply saying, this tower is the 11th tallest self-supported structure in Asia and the 19th tallest self-supported structures in the World (based on its height).
The inspiration behind the design of this tower had been a lotus bud. The representation that inspired the design of this spectacular tower is to symbolize the purity of the Sri Lankans and its culture. The country's development is also said to be a key factor for the design's representation. The design of the tower was idealised here in Sri Lanka itself, by the very talented students in The Faculty of Architecture of University of Moratuwa. Guiding and playing a key role in this designing process were the senior faculty members who provided professional advice on this project regarding the design, cost planning and cost control. This was led by Prof. Samitha Manawadu, Prof. Nimal de Silva and Prof. Chithra Wedikkara.
I am so humbled and lucky to say that I got an opportunity to visit this amazing landmark before it is officially opened to the public, and this blog post will take you through some of the most exciting areas of the tower, so that you will know what to expect when you visit this new landmark once its officially opened.
You can check out more pictures and videos that I took on my instagram and my Instagram stories here. Make sure to hit a like and give a follow! Now that all that is out of the way- sit back and relax, and let me take you through this journey!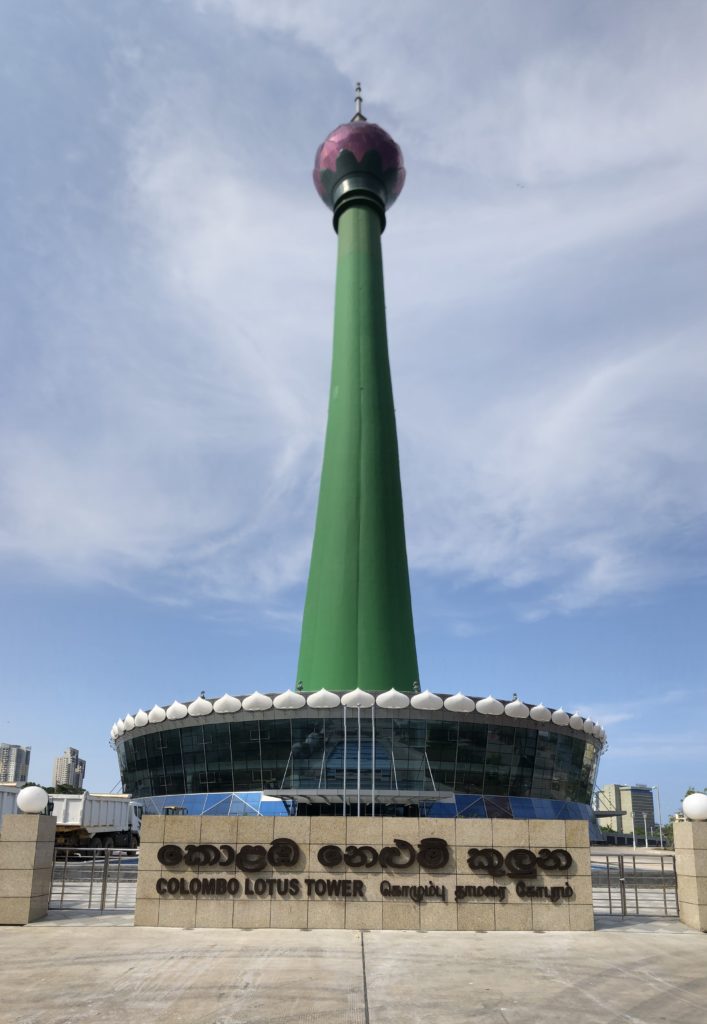 The latest pride and joy of Colombo's skyline- Colombo Lotus Tower.
It is honestly with great pride that I write here, because this unusual design really did beautify Colombo's skyline. The entire Colombo can see this during day time and night- especially from high rise building and apartments. The design is very simple yet very sophisticated. This is occasionally lighted up with flashy lights and it just adds glory to the dark night sky.
As of to the actual building, it comprises of different levels/ parts:
1st Floor- TV transmitter plant and control rooms
2nd Floor- Radio transmitter plant and control rooms
3rd Floor- Banquet hall (350-pax seating capacity)
4th Floor- Banquet hall (350-pax seating capacity)
5th Floor- Revolving restaurant (300- 320-pax seating capacity)
6th Floor- 7 super luxury suites
7th Floor- Observation deck
8th Floor- AC outdoor plant room and elevator plant room respectively.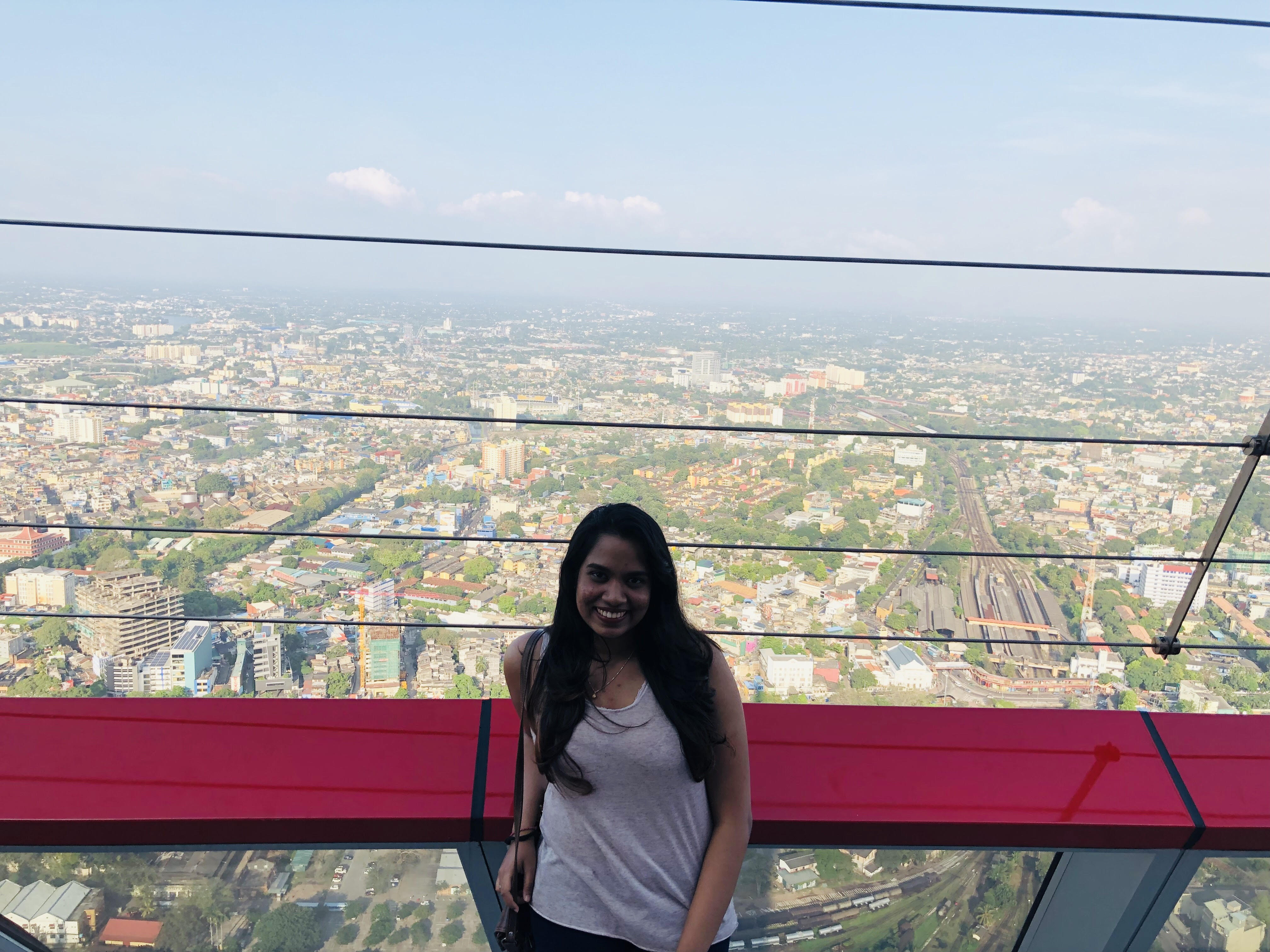 This is a picture of me taken at the Observation deck on the 7th floor of the bud. Just see how beautiful the view is! I got to visit 3 floors- the observation deck, the rotating restaurant and the banquet hall. Let me take you guys through it in detail so that you will know what to expect in these 3 floors!
Spoilers- GET READY TO BE MIND BLOWN!!
Observation Deck
Never have I seen such a spectacular view of my beautiful country, and honestly if you thought it was going to be sunny and hot- it's actually not. Yes, it is a bit bright because this is 560 m2 above ground level! It's so breezy that the sun is just barely burning. It's the perfect compliment of hot and cold. The view off this floor is just gorgeous and every Sri Lankan (and tourist) NEEDS to see this. It overlooks the ocean and the upcoming Port City and Galle Face Green, and honestly this view made me want to have wings so that I can fly up even higher and appreciate the beauty of my country to my heart's content.
Revolving Restaurant
This is in the 5th floor, which is still under construction as you can see in the videos. The greyish platform with the seats is the area that rotates, and it will rotate one full round for about an hour until the buffet is over. Seating capacity here is for around 300-320 people. As what I heard the buffet will have a max price of Rs. 5,000 but it could reduce as finalized rates are still to be discussed.
Banquet Hall
If you know me, you should know that I love pink, and when I went to the floor, I just simply gasped. It's beautiful with pink tinted windows to reduce the sharp sunlight that hits to the hall. It has a seating capacity for about 300 people and during for about 600 people in a cocktail function. The chandeliers are shaped as lotus petals and all those individual crystals were bought all the way from China over here for installation. And yes. The sunset shot was taken from this floor! Isn't it just magical?!
VIP Lounge/ Rooms
There are 7 VIP rooms in available and they are mainly targeted for wedding guests and of course one is a honeymoon suite for the newly wedded couple.
Shopping Complex
The shopping complex will be located in the base of the tower and this expands for 3 floors. So this means that you get to shop, view and dine all in one place!
Additional Information
In total the entire tower has 29 floors and the height is 1168 feet. The entire tower is made from 100% Chinese resources so you can expect a few Chinese touches in it as well.
There are massive lifts that take you up and down the tower so you don't have to climb! Mind you, these are high- speed lifts that go up and down the stem of this tower. These are also the fastest lift speeds found in Sri Lanka for the first time in the island- with a speed of 7mps.
(2 lifts of 7 mps and 2 of 5mps and 2 survice lifts and 1 vip lift). Mind you, the 7mps lift only takes 40 seconds to reach the observation deck which is 560m2 above! The main reason for the speed is for prompt evacuation in the situation of a fire.
In addition to these features, the tower is also lighted up during nighttime with 38,000 LED lights that change colours. It will also be illuminated with appropriate decorative displays during festivities. The stem will be lit by floodlights to ensure that the lighting can even been seen from a long distance.
The main sources of revenue for this tower is from tourism and antenna leasing. This is an innovation from the field of electronic communication because this is designed to accomodate around 20 television broadcasting companies, 50 FM broadcasters and telecommunications operators.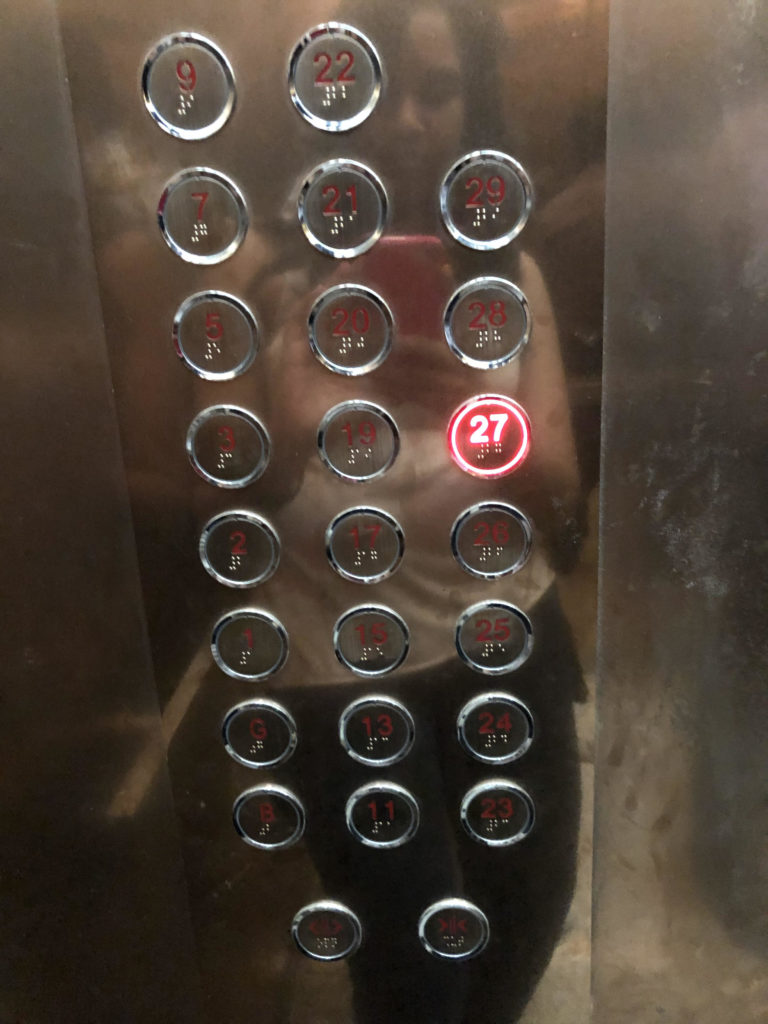 It's a landmark that is a must visit and make use of the opportunity to have a bird's eye view of our beautiful Colombo. It is expected to be fully complete by March 2020, so it's not too far away! Check out more pictures and videos that I took on my Instagram and my Instagram stories here. Make sure to hit a like and give a follow!
Hope that you guys enjoyed reading this article!
Hugs,
Kusali.